Maverick Sabre wants his debut album to be a 'classic'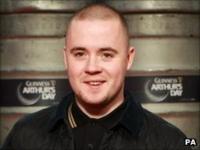 Maverick Sabre says he wants his forthcoming debut album to be remembered as a "classic".
"I didn't want to write an album that's not going to sound relevant in five years time," he said.
"I want to write something that people can play back to their kids. I feel like that's what's missing from music at the moment."
Maverick Sabre, whose real name is Michael Stafford, is due to release his debut album early next year.
The 21-year-old added: "I just wanted to bring it back to writing classic songs that can cross boundaries and cross genres."
Stafford says he admires Adele for being so successful with music he considers timeless.
He said: "Adele's Someone Like You could have been played 50 years ago and people would relate to it, or you could play it 50 years from now and people would relate to it."
21 by Adele is the bestselling album in the UK so far this year.
'Personal expression'
Maverick Sabre has played a number of music festivals over the summer and says he's had a great time.
He said: "I've been doing festivals with Chase & Status, supporting Tinie Tempah at Ibiza Rocks. I've been to Norway, Ireland, England, Spain.
"I love music festivals and I love that the energy is quite different from normal shows. Audiences are more energetic. That helps my performance because I feed off that on stage."
The singer and rapper says festival crowds have reacted well to his live shows, particularly to lead single Let Me Go.
He said: "[The reaction] has surprised me because when I write music I get fairly into it, and I'll either stay in the studio or stay in my house for days and not really speak to many people. So I write songs as a personal expression.
"So when Let Me Go was released, gradually over the festival period as the song got played more and started selling more, you'd see the difference in reaction.
"You'd see how many more people knew the song."
Maverick Sabre's debut album, Lonely Are The Brave, is due to be released in January.