Kanye West shops at a wholesaler in London's East End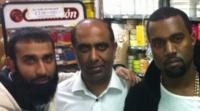 Kanye West handpicked fabrics for his new clothing range on a shopping trip to London's East End.
The US rapper looked through stock at London Trimmings, in Whitechapel, east London, before patiently waiting to be served.
Owner Ashraf Loonat, 31, said the singer was very down to earth and humble.
"He turned up unexpectedly at first. He was very polite, interested in what we had to say," he revealed.
"What was really good was when I asked him [Kanye] why he was here himself he said, 'I want to work from the ground upwards, I don't want to leave it to someone else.'"
The rapper was without a large entourage on the shopping trip.
"He just had a couple of people with him," said Ashraf Loonat.
The singer bought zips and fabrics in two trips to the shop.
The second time Kanye West visited the wholesaler, Ashraf Loonat asked if he wanted a cup of tea.
"We offered him a cup of tea and he said 'Thank you very much, one sugar please.' We got the kettle on for him and I was surprised he accepted it."
Kanye West's range for women will be showing at Paris Fashion Week on Saturday.
"Personally I think he will probably come back," Ashraf Loonat said. "I think London has a special place for his label."