Fearne Cotton to co-host Michael Jackson memorial event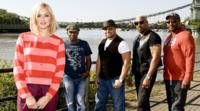 Fearne Cotton has been announced as the co-host of next month's Michael Jackson tribute concert.
The BBC Radio 1 presenter will partner Hollywood actor and singer Jamie Foxx in fronting the Cardiff event.
The star said she was "thrilled" to be part of the show which will take place in Cardiff's Millennium Stadium on Saturday 8 October.
Acts including The Black Eyed Peas, Christina Aguilera and Cee Lo Green are all due to take to the stage.
Speaking of the singer, Fearne Cotton said: "I was always a massive fan of Michael Jackson himself.
"Without him there's a whole generation of performers and entertainers who might never have got their break in music.
"His contribution was crucial and his premature death a complete tragedy."
Jackson trial
The concert was initially announced by the star's mother Katherine.
Fearne Cotton said: "I am really looking forward to enjoying the privilege of meeting his mother and other members of the Jackson family.
"It's going to be a wonderful night and, thanks to the stadium's roof, it doesn't even matter if it rains."
The concert has been the subject of controversy in recent weeks, with some members of the Jackson family saying it has been "mishandled".
Speaking to Newsbeat on 16 September Jermaine Jackson criticised the timing of the concert which will clash with the continuing trial of Dr Conrad Murray.
"It's bad timing because it's two weeks into the trial," he said.
"It's good to celebrate, good to keep the legacy alive, but everything has its time."
Last month the organiser of the Michael Jackson tribute concert Chris Hunt defended the event saying that he has the "overwhelming majority" of the Jackson family behind him.
He told Newsbeat the event "reminds people just how fantastic Michael Jackson was", and rejected the idea that the concert will be "inappropriate".
But Jermaine Jackson said: "We're all focused on getting justice for Michael, the best tribute we can do for him is getting justice and making sure we get justice as a family as to what happened."
Prosecutors claim Conrad Murray caused the pop star's death by giving him a powerful anaesthetic, Propofol, to help him sleep.
Dr Murray has pleaded not guilty to the charges.
The tribute concert will raise money for three charities including the Los Angeles-based Aids Project.