Britney Spears hits back at Hackney Council over video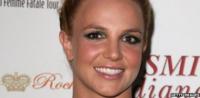 Britney Spears has refused to apologise after Hackney Council accused her of "glamorising gangs".
Hackney Council bosses had agreed to the filming for the video to her new single Criminal but say they "did not agree" to the use of a replica gun.
Britney has defended her actions saying the video was a fantasy story which "plays out the lyrics of a song".
Last week, the 29-year-old was seen at Stoke Newington Town Hall running around brandishing a gun.
A spokesman for the star said: "The video is a fantasy story featuring Britney's boyfriend, Jason Trawick, which literally plays out the lyrics of a song written three years before the riots ever happened.
"When the video is released, people will fully understand its narrative. The pap shots don't deliver that of course."
A Hackney Council spokesperson said: "Hackney Council carefully vets all requests to film in the borough.
"In this case we did not agree that a replica gun could be used on location at Stoke Newington town hall.
"We are disappointed that the film crew made a last-minute change to the scene. We will be raising this matter with the production company."
Britney's single Criminal is released in the UK on 21 November.