Cher Lloyd 'disgusted' by threats made on Twitter
28 September 2011

From the section

Music
Cher Lloyd has called on the government to do more about online bullying, after receiving threats on Twitter.
The 18-year-old former X Factor singer said not enough was being done on social networks to protect young people from malicious comments.
She told Newsbeat: "It disgusts me that online bullying - nobody really cares about it.
"No-one has made a big enough impact to stop these people. I'd definitely like to see more done about it."
Government pressure
Asked who she felt needed to step in and help, she said: "I kind of think it's the government."
It comes after one user threatened the singer's mother with violence in a tweet last week.
Cher said she was learning to deal with some negative reactions but she worried about young people not in the public eye who also get criticism online.
"It's one thing writing to me," she said. "I'm getting stronger with this stuff, I can take it on the chin but there are girls out there and boys out there that can't take that.
"And I'm worried about something happening to a young person.
"It's strange because I think, would these people be big enough and strong enough to come up to me and say these hurtful things?
"Because I've got the idea that they actually wouldn't. They would never, ever say that to my face."
'Cry about it'
The singer, who finished fourth in the 2010 series of The X Factor, has admitted she struggles to cope with some of the abuse she receives on Twitter.
"It's funny to say, how do you cope with it? Because I don't cope with it. It's really hard," she admitted.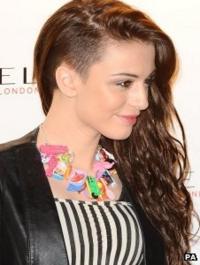 "If I get a nasty tweet, or if someone shouts at me in the street that's really disrespectful to me or my family, I kind of wait until I go home.
"You shut the door and then you can have a cry about it. No-one needs to know."
The singer is a prolific tweeter herself and there is one abusive message published on her account directed at tabloid journalists who'd written stories about her.
In a statement Beatbullying said: "Bullying is a social issue and no longer confined to the classroom and so we believe in working in partnership with other organisations to tackle bullying and get it higher up the agenda of the government."
Twitter pointed Newsbeat towards their help centre which gives advice on how to stay safe and deal with any bullying issues.
They say they investigate reports of violent threats but that they are not the police.
A spokesman for the Department for Education said cyberbullying is "not easy to tackle" but said it is toughening up measures to crack down on bullies in schools.
"We're working closely with the charities to target teachers, parents and kids about how best to tackle cyberbullying," he said.
In August Cher scored a UK number one single with her debut track Swagger Jagger.
She will release her debut album in November.