'No issue' over kids cage fight say police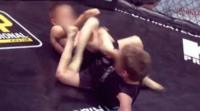 Lancashire Police says it will take no action against the organisers of a children's cage fight event.
There were worries that two boys were put at risk by taking part at a club in Preston, Lancs, in front of 250 adults.
A spokesman for Lancashire Police said "there are no issues for us to pursue".
Nick Hartley, 33, lets his son Kian fight: "He's never going to get injured. There are referees and his trainers are in there
"He chooses to do it. It's just wrestling. There's no kicking or punches."
Culture Secretary Jeremy Hunt says allowing children to fight in a cage is "barbaric", after footage turned up on YouTube.
The sport isn't illegal. Some are criticising the environment the fighting took place in, with adult viewers being served alcohol.
This form of fighting is a mixture of different types of martial arts.
Andrew Whiteside is one of the head coaches in Kian's gym. "It's quite a popular sport. We have some kids as young as five or seven come and train with us
"Kian's the youngest one in competitions though. There are loads of kids who do this. We go to tournaments all over the country."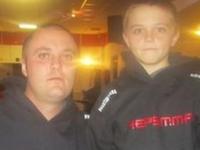 First aid
In the footage of the two boys you can see then wrestling with each other. At some points first aiders are brought on to make sure the kids are safe. Around 200 people are watching. The British medical association says the pictures are "disturbing".
The NSPCC has also criticised the sport saying it would strongly discourage parents from letting their kids take part in this kind of sport.
Organisers say they worked closely with the police and the boys weren't in danger.
"They're blowing it out of control," says Nick. "It's all under control. The referee is in there. If he thought there was anything wrong it would be stopped.
"There are other parents who were here that night, who live locally and kids go to school with Kian, they're actually sending their kids to training since they saw the event which took place here.
"In Sunday league football there's no professional medical team," says Andrew Whiteside. "If a kid breaks a leg that's just it.
"People are jumping on the bandwagon because they're using the term cage fighting. It's mixed marshal arts.
"The only thing we'll change is having the underwear model going on. That's not for the children.
"There's controversy in any sport but we will do everything in our power to make it as safe as we can and hopefully have many more shows."