Rockers Arcade Fire win Canadian 'Mercury Prize'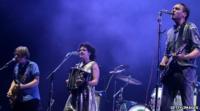 Arcade Fire have won Canada's equivalent of the Mercury Prize for their third album The Suburbs.
The Montreal rockers, who have already won two Brits this year, accepted the Polaris Award and a cheque for $30,000 (£19,000).
The album was selected by a panel of 11 music industry judges at a small ceremony in Toronto.
Arcade Fire's lead singer Win Butler said the band were "honoured" by their victory.
Canadian talent
"There's an absurd amount of incredible Canadian music and we feel lucky to have been able to have seen bands like Godspeed You Black Emperor and The Unicorns," he said.
Much like the UK's Mercury Prize the award is "based on artistic merit, regardless of genre, sales, or record label."
Judge Nick Patch, from the Canadian Press, commented on The Suburbs, saying it was "an album that delves into the uneasy transition into adulthood actually proves the elegance of Arcade Fire's own maturation.
"At last, it seems there's nothing that lies outside this band's considerable grasp."
This year Arcade Fire beat off competition from nine other nominees including Braids, Austra, Destroyer, Galaxie, Hey! Rosetta, Ron Sexsmith, Colin Stetson, Timber Timbre and The Weeknd to claim the win.
In the past the prize has been won by artists such as Karkwa, Caribou, Patrick Watson and Final Fantasy.