Pixie Lott 'excited' about playing Radio 1 Teen Awards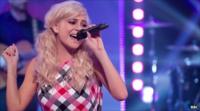 Pixie Lott says she is "excited" to be performing at BBC Radio 1's Teen Awards next month.
The singer told Newsbeat: "Last year I was just presenting an award so it's great to be back and actually perform.
"But it's also exciting to be on the [judging] panel and to read all these inspiring stories so I'm really excited about that part as well."
The BBC Radio 1 Teen Awards take place at Wembley Arena on October 9.
The 20-year-old also revealed she's been working on new music with rapper Wretch 32.
"He's great. We just worked in the studio a couple of weeks ago. I don't know what's making the album yet but he's definitely cool to be in the studio with.
"We got on really well. He seems like a genuinely nice person and he's real".
The singer has also been working with John Legend and Stevie Wonder on tracks from her forthcoming second album.
"I'm a massive fan of John Legend. We had a spare couple of hours in New York together so we wrote a song, and then we recorded it really quickly.
"I really really like it, that one will definitely be on the album."
Lott also clarified comments she made earlier this year about social networking sites.
"I use them, I tweet all the time. I think it's great that you can instantly involve people and tell people what you're up to.
"But I do think it's sad that back in the old days people like Marilyn Munroe and Audrey Hepburn, you wouldn't see them leaving the house in their pyjamas, you wouldn't see them having a full English breakfast in the café. It's changed completely.
"They used to be kind of untouchable and you'd only see them in front of the camera, but now you see them in all states."