Justin Timberlake says filming sex scenes is 'annoying'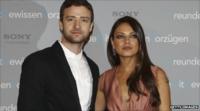 Justin Timberlake has told Newsbeat he finds filming sex scenes "annoying".
Speaking about his new film, Friends With Benefits, in which he stars with Mila Kunis [pictured], the 30-year-old star said: "It's actually kind of annoying, you're there for 12 hours, it's exhausting.
"All those scenes revolve around the dialogue and physical humour is so tiring."
Getting old
The movie is about two friends Dylan [Justin Timberlake] and Jamie [Mila] who discover adding sex to their friendship does lead to complications.
Justin added it's probably his age "that makes him so tired".
But when his co-star, Ukrainian born actress Mila Kunis, was asked about filming the sex scenes the 28-year-old said: "It was fun and embarrassing. I'm just happy it was with Justin."
The former N-Sync singer said if he could be in any film, it would be as "a narcoleptic", which is someone who has an illness which makes them sleep a lot.
"I have a lot of catching up [on sleep] to do."
Back in July, Justin Timberlake bought a stake in social networking site Myspace, after online advertising company Specific Media bought the website from owners News Corporation.
The singer wants to be involved in developing the creative direction of the site.
Friends With Benefits opens in UK cinemas from 9 September.