Tinie Tempah to release book based on his life story
8 September 2011

From the section

Music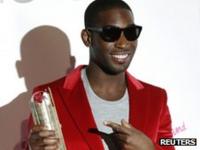 British rapper Tinie Tempah has revealed he plans to release a book later this year.
Speaking at the Mercury Prize, the rapper said the book would be based on his life.
"My story is a pretty crazy one. I thought it would be nice to document it before I forget all about it on the next one," he said.
The rapper says he's written it himself and it will include pictures of all his travels around the world.
"I thought it would be nice for people to have a special part of what is going on with me."
The 22-year-old also appeared to confirm rumours that Adele would sing the next James Bond theme.
"I was with her yesterday and she was telling me about it. I've always wanted to do a Bond thing. I'm jealous. It's always a big diva that does it," he said.
The rapper, whose real name is Patrick Okogwu, says he's also started recording new material for his second album, due for release next year.
He said: "I was trying to do it this year but we're going to do it properly.
"Hopefully you should hear something new in January or February."
Tinie Tempah says he wants to collaborate with Adele on the new album.
"We've been talking [about a duet] but it's all like 'errr, errr.' Let's make a plea, let's make a petition and lets get this track done."
Tinie Tempah's debut album, Disc-Overy, was released in 2010 and was nominated for the Mercury Prize.