Professor Green rejects 'cashing in' claim by stepmum
6 September 2011

From the section

Music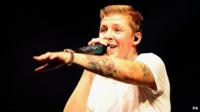 Professor Green has spoken publicly for the first time about claims by his stepmother last year that he cashed in on the death of his father.
The rapper's father Peter Manderson was found hanged in 2008.
His stepmum Jackie accused him of talking about his dad to promote himself after the star wrote about the experience in the track Good Night.
"All I spoke about was how my dad's death affected me. I wasn't trying to cash in on anything," he said.
"I just thought it was incredibly insensitive. I'd already had two top fives and a number one album. I wasn't trying to cash in on anything.
"All I said was that when that happened it was make or break for me; It was either going to effect me negatively or it was going to turn my life around. It did the latter.
"If anything, she should have been happy for me."
'Massive effect'
Professor Green was mainly raised by his grandmother Patricia.
He says he never saw his stepmother and her family after the death of father and says he didn't mention them on his first record.
But the rapper told BBC Radio 1Xtra DJ MistaJam that he had to talk about the situation and the comments made by 53-year-old Jackie on his new single, Read All About It.
"She has no involvement in my life," he admitted. "She never has had. In this record I do address that.
"I also say a few things I never got to say to my dad.
"On the first album I touched on what happened with my father with Good Night. It had a massive effect on my life."
He criticised Jackie's newspaper remarks on Twitter last year but this is the first time he has talked about the situation to the media.
In the interview with MistaJam, 27-year-old Professor Green rejects another claim that he didn't care enough to collect his father's ashes.
He said: "She wanted to talk about how I never went back to collect his ashes but it was because I didn't want to see that woman's face.
"Everything I went through, I was still supportive of her and her family through that period when he committed suicide. Whatever.
"I was a good human being at that time."
The London rap star, real name Stephen Manderson, releases his new single Read All About It, featuring Emeli Sande, on 23 October.
His second album At Your Inconvenience is out a week later.