My Chemical Romance sack their drummer for 'stealing'
5 September 2011

From the section

Music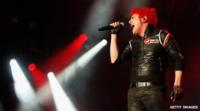 US rockers My Chemical Romance have sacked their drummer Michael Pedicone after they said he was caught stealing from the band.
A statement from the group's guitarist Frank Iero said Pedicone had been "caught red-handed stealing from the band and confessed to police".
He was thrown out of the group with immediate effect following their gig in Auburn, Washington, last Thursday.
The band have continued with a replacement on their blink-182 tour.
Jarrod Alexander has been drafted in to perform with them.
The statement from Iero posted on My Chemical Romance's website continued: "We are heartbroken and sick to our stomachs over this entire situation.
"The band has no intention of pressing charges or taking this matter any further than we have to. We just want him out of our lives.
"The people who play in this band are a family, and family should not take advantage of each other like he did."
Michael Pedicone acknowledged what happened by writing on Twitter.
He wrote: "What happened is more complicated than it sounds but I did make a mistake. It was never my intention to hurt this band or all of you."
He joined the band in 2010 replacing previous drummer Bob Bryar.
My Chemical Romance headlined last month's Reading and Leeds festivals where they were joined on stage by Queen guitarist Brian May.
Elsewhere on Newsbeat:
Rapper rejects 'cashing in' on father's death claim