Number of stray dogs is on the rise, says Dogs Trust
More than 120,000 stray dogs were picked up by local authorities in the last 12 months, the highest number in 11 years.
New figures from the Dogs Trust suggest that on average 345 stray dogs are picked up every day.
But more than one in 20, a total of 7,571 dogs, were put down as they were unable to be rehomed.
The report also says that when dogs and families are reunited the animals are not always wanted back by their owners.
Frustrating
Adam Levy manages a rehoming centre in Canterbury which is full to capacity and has 70 dogs waiting for homes.
He says the centres are always full.
"As soon as we've got dogs going out we've got more dogs booked to come in," he said.
"There is a real pressure because the waiting lists are increasing."
When asked why he thought the situation was getting worse, Adam Levy said the current economic climate didn't help.
He said: "Dogs become a bit of a luxury and when people need to cut costs, dogs are one of the first things that go."
Adam Levy also blamed the idea of seeing a dog as an accessory and the demand for status dogs.
"I think it's a part of the throwaway culture that we live in," he admitted.
"But when people realise how much commitment is involved to dog ownership they lose interest.
"It's an easy option just to abandon your dog."
The stray dogs survey suggests the number of dogs put down in the last 12 months has risen by 18% on the previous year.
Adam Levy says that many dogs are reunited with their owners but not always wanted back.
He says the new figures are frustrating as it goes against everything he is working for.
He said: "That dog never asked to come and live with them. They made that decision."
Miocrochipping
The Dogs Trust is calling for the government to introduce compulsory microchipping and claims this could save taxpayers about £20 million.
Charities say that would encourage people to take responsibility of their dogs and help them identify who is breeding dogs to fight.
The Dogs Trust has already begun to offer the microchipping service at their 17 rehoming centres for free.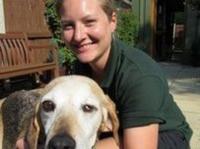 They say rehoming a dog is not as simple as walking in and coming out with a new dog. It can take up to a week to process an adoption.
They say the process is to ensure they match the right dog to the right person.
After a week of checks and monitoring when they first arrive the dogs are assessed.
Harriet Cardwell is a canine carer who looks after stray and unwanted dogs. She feeds, exercises and cleans them.
"It can be hard to see the dogs who are no longer loved," she said.
"Some are quite nervous when they come in and you just wonder what has happened to them."