Amy Winehouse is to be honoured at this year's Mobos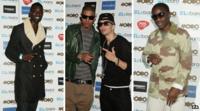 Artists performing at this year's Music of Black Origin (Mobo) Awards say they will pay a special on stage tribute to Amy Winehouse.
In a room boasting some of the brightest stars in UK music the absence of one artist is the topic of conversation at this year's nominations launch.
As for who's up for the most prizes, that's secondary this year.
There's a certain affinity between the Mobos and Amy Winehouse.
Rewind to the event's launch night in 2003.
It was there that little known 20-year-old Amy Winehouse was among the performers, as Mobo organiser Kanya King recalls.
"[It was an] absolutely stunning performance," she recalls. "Everyone was mesmerised.
"At these industry events everybody is always talking but they were just so quiet. Everyone wanted to listen."
'She's immortal'
The singer, who died in July aged 27, went on to win two Mobo Awards in 2007.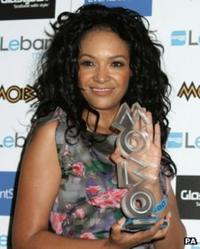 Bouncing along the red carpet at the Renaissance Hotel in Kings Cross in London is Dappy and Fazer from pop trio N-Dubz.
The pair, known for their energetic interviews and performances, pause for a moment before reacting to the news of the planned tribute to the late singer.
"She's immortal," says Dappy, as he removes his signature sunglasses.
He then goes on to say he's penned a lyric in her memory that will feature on his next single.
"Forget a moment of silence in my house," he said. "We [will] shut the whole thing down for Winehouse."
'Overwhelmed'
North London rapper Wretch 32 is up for four nominations.
It caps what has been an amazing few weeks for him, which saw Don't Go land him his first UK number one single.
"[That was the] shock of the year," he says. "It's been a great nine months.
"I'm really chuffed, overwhelmed. It's an award ceremony I grew up watching so to have four nominations, I'm really excited."
As to just what the tribute will be or who will be part of it, organisers are keeping that secret.
But Tinchy Stryder who's nominated in the video category for the track Spaceship reckons it's vital one artist is involved - Amy Winehouse's god-daughter.
"As long as they have Dionne Bromfield in it somehow then we are good," he says.
"I would do a rap as a mark of respect but I'd like to watch and take it in because I love her music.
"I wouldn't just want it to be a rap because it needs to be something deeper than that."
The Mobos, now in their 16th year, take place in Glasgow on 5 October