Noah and The Whale start working on their new album
30 August 2011

From the section

Music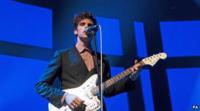 The new album from Noah and The Whale will have an English influence, according to the band.
Lead singer Charlie Fink told Newsbeat he had started writing new material but it was still being developed.
"I've had very little time at home and it is quite hard to write on the road. But last time I was home I sat down at my desk and I was scribbling out some ideas," he said.
"I don't know what it's going to turn into but I have started writing it."
Noah and The Whale released their third album Last Night On Earth in March.
"I think the record we have just made is our American-influenced album, all the bands that inspired us were from America," he added.
Charlie Fink said bands like Pulp had influenced their new writing style.
"I have been listening to a lot of English music at the moment and reading a lot of English writers," the singer said.
"So far it's me writing self-deprecating things about my childhood and how it started.
"But I'd like it to be broader and have some relevance to what is going on in the world."
The band have had a busy year playing festivals including Glastonbury and they will also be performing at Ibiza Rocks before starting a UK tour in October.
"2011 has had very little sleep in it for me," he joked. "I just don't bother with it at all."