Liam Gallagher says Oasis feud with Noel 'isn't over'
30 August 2011

From the section

Music
Liam Gallagher has confirmed that his dispute with his brother Noel over the circumstances surrounding the break up of Oasis has yet to be resolved.
Last week Liam announced he was to sue his older brother over what he claims were "lies" about the reasons the band split in 2009.
In a statement the singer said he had "been left with no choice but legal action" and demanded an apology.
Noel has since said in a web chat that the feud was "silly".
But now, speaking to Newsbeat, Liam Gallagher said: "It's not over yet. There are a few things which need to be sorted out.
"I didn't want this to happen. It's not nice suing your family but like I said, he was telling porkies for the sake of his mates and journalists to get a wise crack on me.
"I ain't having that. I ain't a fraud and this band ain't a fraud.
"If he listens to his lawyers and does the right thing then it'll be well and truly over. I never wanted it to happen but it has to happen."
Future plans
Liam Gallagher was speaking ahead of headlining the NME/Radio 1 stage at this weekend's Reading and Leeds festivals.
"I want to go and do the Beady Eye thing," he said. "I'm sure he wants to do his thing but these things don't get solved overnight. He'll stand his ground and I'll stand mine."
The singer, who formed Beady Eye after Noel Gallagher left Oasis in summer 2009, said that the fan base of his new outfit was growing.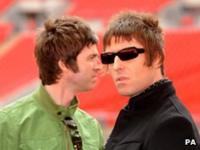 "People are coming around to us slowly but surely," he said.
"You can see the people who've heard the record and you can see the people who've heard it on the radio, obviously not that much, or on the TV."
The band also confirmed details of their future plans.
They will spend the rest of 2011 touring in places including Japan, Europe and South America.
In the new year they'll record their second album and say they hope to have it released by summer 2012.
"We were thinking of the second album before we were thinking about the first one," said Liam Gallagher. "That's the way we do it around our way.
"The first album was making sure we got back out there, back in the ring.
"The rug was pulled from under us as far as I'm concerned.
"We put everything into that album but without a doubt the second album will be better.
"The way I see it is you hit 'em with two great albums then get out of peoples' faces as much as for yourself and the public.
"Have a bit of a break, come back with the third album and then the fourth. Two albums out, two albums out. In an ideal world that would be great."