Brian May appears with My Chemical Romance at Reading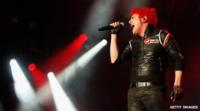 Queen's Brian May joined My Chemical Romance on stage as they headlined this year's Reading festival.
Singer Gerard Way welcomed the guitarist for the band's encore as they topped the opening night of the three-day event.
Together they led the crowd in a mass sing and clapalong for the Queen classic We Will Rock You, complete with fireworks synchronised to the music.
Brian May then stayed on for the final song of the night, The Black Parade.
Earlier in the day, Gerard Way told Newsbeat they'd been planning the event for most of this year, admitting: "We've been thinking about this show for eight months, every single day.
"We've got a lot of production that we've never used before so it's going to be a lot of fun."
The band had much to prove with the Reading crowd.
They last appeared five years ago when they were pelted with plastic bottles during their performance after having to follow thrash band Slayer on stage.
The headliners at Reading were grateful for clear skies after heavy rain earlier in the day turned much of the arena into a muddy quagmire.
Specially-designed set
Meanwhile, Muse kicked off this year's Leeds festival by performing their 2001 album Origin Of Symmetry from start to finish.
Speaking from the stage, lead singer Matt Bellamy said: "We're celebrating 10 years since Origin Of Symmetry came out. Thank you for putting up with the whole thing."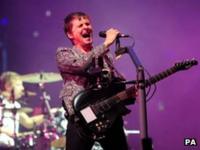 The band performed in front of 70,000 fans on a specially-designed set which they're only using during their headline slots at this weekend's Reading and Leeds festivals.
Based on Origin Of Symmetry's album artwork, it features four, large forks arching over the stage.
After playing tracks such as New Born, Plug In Baby and Feeling Good from that album they played an hour long assortment of songs spanning their career including Supermassive Black Hole, Stockholm Syndrome and Starlight.
They concluded with an encore of Knights Of Cydonia accompanied by fireworks.
"I thought they were amazing, probably the best band I'm ever going to see live. [They were] that good," said Jake Sanderson from Newcastle.
Large audiences
On what had been a wet and muddy first day of music at Bramham Park, the crowd were entertained by artists such as Friendly Fires, Interpol and Elbow on the main stage.
Speaking to Newsbeat before their set, Elbow's lead singer Guy Garvey said: "Our appearances at Reading and Leeds seem to be benchmarks for us over the years.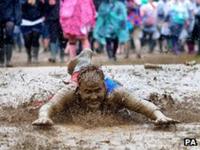 "It's fantastic to be playing before Muse.
"We first met them when they played at the Roadhouse [in Manchester]. We didn't have a record deal at that point. They didn't either.
"I made coffee for them and fed them."
Other artists who attracted large audiences on the first day were 2manydjs and The Streets on the NME/Radio 1 stage.
A huge early evening crowd gathered at the festival republic stage to see songwriter Ed Sheeran. Many fans were forced to watch him from outside the tent.
Saturday at Leeds features performances from My Chemical Romance, Thirty Seconds To Mars and The Offspring.
The Strokes are to headline day two of Reading along with Pulp and The National.
On Saturday and Sunday BBC Radio 1 will be broadcasting live from Reading festival between 1-4pm. Also watch highlights throughout the weekend on BBC Three. Follow @BBCR1MusicNews for updates from Leeds festival through the weekend.