Duke and Duchess of Cambridge watch Inbetweeners Movie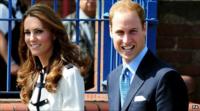 Prince William and Kate Middleton were seen out watching The Inbetweeners Movie on Wednesday evening.
The royal couple, both 29, were said to have been laughing out loud at the British comedy.
One movie-goer, who was at the same screening, said the Duke and Duchess of Cambridge were "in hysterics through the whole film".
They were seen visiting the cinema in Llandudno, north Wales, last night (24 August).
The Inbetweeners Movie opened last week and broke UK box office records.
The film has had the biggest opening weekend of all time for a British comedy taking more than £13 million.
It broke the previous record set by Bridget Jones: The Edge of Reason, which opened in 2004.