Lady Gaga set to make guest appearance in The Simpsons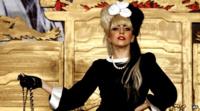 Lady Gaga is set to appear in The Simpsons, producers of the long-running cartoon US show have confirmed.
The singer, whose real name is Stafani Germanotta, recorded her voice-over earlier this month.
She's described the experience as "one of the coolest things I've ever done".
The episode, titled Lady Goes Gaga, will air in America in spring 2012 and is likely be shown in the UK later in the year.
'Iconic personalities'
The 25-year-old told Entertainment Weekly: "I make music, but I don't do voice-overs every day of the week and their characters are so awesomely convincing and sincere and wild and funny, I had to remind myself constantly of the sincerity of the humour.
"That's what I was trying to focus on, not putting on a character too much and really being as sincere as I could with the lines."
In the episode, the singer comes to Springfield to cheer up Lisa, who's been suffering from low self-esteem.
Lady Gaga revealed that her character ends up kissing Marge, saying, "the apple doesn't fall far from my artistic tree".
Producers of The Simpsons said they were impressed by her voice acting and ad-libbing skills.
Matt Groening, who created the show, said: "Since the very beginning, I've always wanted to have on the most iconic personalities of our time, and she's it."
Yeardley Smith, who voices Lisa Simpson, told American website Broadway: "This is extraordinary! I'm stunned that she has time in her schedule that she's coming to our studio to record."
Gaga briefly appeared in the Simpsons once before as Elton John's Golden Globes date, but she did not voice the character that time.