Anne Hathaway 'paparazzi rap' remixed by UK hip hop DJ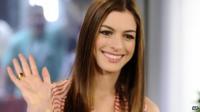 A rap by Hollywood actress Anne Hathaway performed on a US chat show has been turned into a dubstep track by a UK hip hop DJ.
Hathaway's freestyle, nicknamed the paparazzi rap, has already had 1.8 million views on YouTube.
DJ Woody has remixed it with Nero's remix of Promises by Skrillex.
Anne Hathaway said: "A friend of mine sent it to me and I couldn't believe it. It's such a silly thing."
The 28-year-old's rant, set to a dupstep bass beat, has racked up millions of hits online.
She introduced it on the show as being in a "Lil Wayne style".
Her rap featured lines such as: "Don't call me scuzzy making money/that's my job."
UK artist Tinie Tempah tweeted after she was on the show joking that she had become his "imaginary girlfriend."
The actress is in the UK promoting the film adaptation of David Nicholls' novel One Day, in which she plays the lead Emma Morley.
She has been criticised for her range of English accents.