Independent record labels detail fire recovery plans
18 August 2011

From the section

Music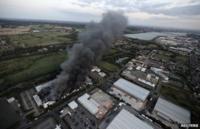 The UK's largest distributor of independent music PIAS has announced its plans to resume getting its stock to retailers.
It's after a warehouse fire destroyed 3.5 million CDs, vinyl releases and box sets affecting "thousands" of artists.
Sony DADC, who own the premises, will now begin operating from a base in Hoddesdon, Hertfordshire.
PIAS have also partnered with company Proper Music Distribution in order to help get CDs to retailers.
Kenny Gates, founder and chief executive of PIAS said: "'I am happy we have found a solution to resume selling physical stock from our recording artists and our labels."
He added: "The way this has been dealt with by all involved, the support from everyone around us and the shared determination to come out of this stronger is exceptional and truly inspiring."
The fire started on 8 August after the warehouse was targeted by rioters in Enfield. More than 150 record labels were based at the warehouse, including Warp and XL.
One firm Beggars estimated that it lost around 750,000 CDs in the fire but says it has extra stock around the world.
Toddla T, one of the artists affected, was forced to delay the release of his album after copies of it were destroyed.
The release of Arctic Monkeys' new single, Hellcat Spangled Shalalala, was also been affected.
The band, who are signed to Domino Records, had planned to release the single on 15 August.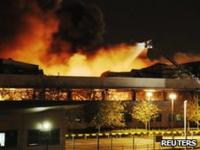 However, only a limited number of vinyl copies were made available to fans on the band's website, with the song also being sold digitally online.
As well as CDs, the 20,000 sq m (215,000 sq ft) centre was used to store DVDs, Blu-ray discs and discs used for PlayStation Portable games.
Alison Wenham, who chairs the Association of Independent Music (AIM), said at the time: "This is a disaster for the music community, but with the fans' help, labels and artists will survive."
Following the fire, PIAS and AIM announced the setting up of a fund to help labels which had been affected by the fire, in response to "the numerous offers of support, benefits, fundraising initiatives".
Details of how to contribute to the fund are available on the PIAS website.