Lady Gaga borrows dress from English fashion student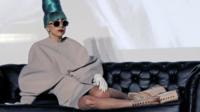 A 22-year-old graduate has said she still thinks it's a hoax after seeing Lady Gaga wearing one of her dresses.
Lady Gaga's stylist spotted Rebecca Short's rubber dress after seeing it at London Graduate Fashion Week and told her the singer may wear it.
"She emailed me asking to send that particular outfit," she said. "A few other people from my fashion course sent things.
"I never thought in a million years she would actually wear my dress."
Rebecca, who's from Sheffield but studied at Birmingham City university, was travelling in Central America with some friends when she heard that her dress had been worn.
Gaga posted a photograph of herself wearing the dress to her Twitter account and on her Facebook wall.
"I couldn't believe it really. I still think it's a hoax! It's so surreal."
"Being a really stripped back minimalistic piece I was really shocked she actually chose it as her style is more eccentric.
"She wore it in a way that was totally different to how I styled it. It worked really well, it was really alternative with the turquoise beehive and white gloves."
Short says the dress was returned to her in perfect condition but isn't sure what she'll do with it yet.
It's not the first time Lady Gaga's used a student designer. Last year she asked an 18-year-old fashion student from Hull to ship some of her designs to LA.
Rebecca says it's been a great break for her.
"This is huge and lucky for me. I was working really hard for my graduate project and never thought about dressing someone famous. Being fresh out of university it's a struggle to even find a job and I'm really pleased and proud of what I've managed to achieve."
Since graduating Rebecca is now working for a boutique fashion label but she's hoping to work again with Lady Gaga.
"That would be a dream. I'm continuing to design more and her stylist has said any more things I have, I can send over and if she fancies anything in the future I might get another commission. Who knows!"