Britney Spears to get tribute at MTV video music awards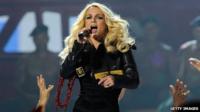 A tribute to Britney Spears is to be held at this year's MTV video music awards (VMAs) in Los Angeles.
The singer has recorded a promo video for the event in which she's seen DJ'ing at a dance party playing tracks including her present single, I Wanna Go.
Britney Spears is nominated for best pop video and best choreography for her track Till The World Ends this year.
She has won four VMAs in the past and made several memorable appearances.
They include her handing a birthday cake to Michael Jackson (2002), her kiss with Madonna (2003), her comeback performance (2007) and her dance with an albino python (2001).
Nominations
Lil Wayne, Adele, Bruno Mars and Chris Brown are all performing at the ceremony with Selena Gomez, Rick Ross and Kim Kardashian all set to present awards.
A host for the video music awards has yet to be announced.
The VMAs will be broadcast from the Nokia Theatre in Los Angeles on 28 August.
Katy Perry leads the field this year with nine nominations, including video of the year for Firework, best pop video and best special effects.
Adele and Kanye West both have seven nominations each.
Lady Gaga, Beyonce and Bruno Mars are also up for multiple awards.