More than 1.5m CDs destroyed in Sony warehouse fire
11 August 2011

From the section

Music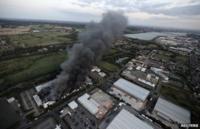 Sony says more than 1.5 million CDs are being re-made in the UK and Austria after fire destroyed its stock warehouse in north London on Monday.
The company's main distribution centre was burned down after being targeted by rioters in Enfield.
The building, owned by Sony DADC, was also the main HQ for the UK's biggest distributor of independent music, Pias.
One firm Beggars estimates that it lost around 750,000 CDs in the fire but says it has extra stock around the world.
A spokesman said it could take up to three months to replenish its vinyl stocks.
The release of Arctic Monkeys' new single, Hellcat Spangled Shalalala, has also been affected.
The band, who are signed to Domino Records, had planned to release the single on 15 August.
However, only a limited number of vinyl copies will now be made available to fans on the band's website, with the song also being sold digitally online.
Access to the Sony DADC warehouse is still restricted because parts of the building are still smouldering.
No assessment of the damage has been carried out yet.
Arrests
The company looked after the stock of more than 150 record labels at the warehouse, including Warp and XL.
As well as CDs, the 20,000 sq m (215,000 sq ft) centre was used to store DVDs, Blu-ray discs and discs used for PlayStation Portable games.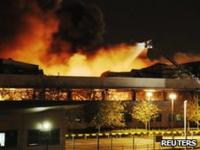 Alison Wenham, who chairs the Association of Independent Music (AIM), said: "This is a disaster for the music community, but with the fans' help, labels and artists will survive."
Pias and AIM have since announced they are to set up a fund to help labels which have been affected by the fire, in response to "the numerous offers of support, benefits, fundraising initiatives".
Kenny Gates of Pias said: "The fund that is being put together in a matter of hours by Pias and AIM demonstrates once again the strength and solidarity in the independent music community.
"I am very confident that our combined efforts will result in the smallest interruption to our collective business.
"Again the compassion of our recording artists, our labels and the industry-wide support is amazing."
Details of how to contribute to the fund are available on the Pias website.
Radio 1 DJ Rob da Bank, who also runs an independent record label, tweeted: "Looks like all our Sunday Best stock went up in flames last night in the Pias blaze."
Meanwhile, Scotland Yard says three male teenagers have been arrested.
Police say two 17-year-olds and an 18-year-old have been arrested, accused of violent disorder and arson.
Two remain in custody while a 17-year-old has been bailed.