Young are hit by unemployment and debt crisis in Spain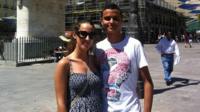 Spain is one of the countries in Europe that has been hit the hardest by the global economic downturn.
Millions of people are unemployed and many are struggling to keep their homes.
Newsbeat is in the capital Madrid where locals are explaining how they're coping with the credit crunch.
Waiters are neatly laying the cutlery on the small wooden tables at Kulto Al Plato restaurant in central Madrid.
The tapas bar is getting ready for the lunchtime rush and the barmen are stocking up on ice and lemon for thirsty customers coming in from the blazing heat.
High unemployment
Mikel Otaegui is the chef and he's preparing for his first dish of the day, baby squid on a bed of caramelised onion and apple.
But business isn't as good as it was last summer.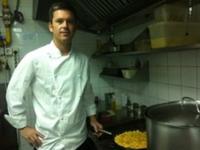 The profit is down because staff say customers have tightened their budgets and aren't spending what they used to.
Mikel said: "We used to just have full portions but now we have to have half portions too because not everyone could afford the full portion."
Its a result of Spain's crumbling economy.
High unemployment (21%) and high debt means restaurants that once closed for the summer months, are staying open to make the cash they lost due to the financial crisis.
'No hope'
Even though this one has never shut its doors in August, it has still had to make changes.
"People want to know exactly how much their lunch or dinner will cost before sitting down," said Mikel.
"We didn't have a menu before but now we have because customers want to know the cost first."
There are fears things are about to get worse.
Spanish share prices have taken a dive by 4% after concerns the Eurozone crisis is spreading to France, which took on much of Greece's debt.
Economists are worried that Spain and Italy are next on the list of countries in need of a bailout because they won't be able to repay their debts either.
Ramon Diaz is 20 years old and is training to be a vet.
He's concerned how the bad economic climate will affect him and his girlfriend.
He said: "We have no hope for the future. It's really difficult to know what to do."
Follow Sima Kotecha on Twitter @radio1sima