Muse to start writing new album after summer festivals
10 August 2011

From the section

Music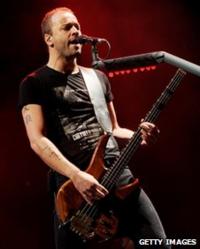 Muse say they will start writing songs for their sixth album later this year.
Bassist Chris Wolstenholme has told Radio 1 DJ Zane Lowe that the Devon band will go into the studio after their performances at the Reading and Leeds festivals.
"September and October, that's when we're going to get into the studio to start writing the new album," the 32-year-old revealed.
Muse released their last record, The Resistance, in 2009.
The album made it to number one in the UK and won them their first Grammy earlier this year.
They've been touring for more than two years off the back of the LP but say live performances are always hard to give up.
"We're always going to be the kind of band that want to get out and play live," admitted Chris Wolstenholme.
"As the years go on there's that temptation to cut the touring down less and less but we still love playing live.
"I can't ever imagine we'll be the kind of band that cut the touring down significantly."
Muse are playing their 2001 album Origin of Symmetry in full at this year's Reading and Leeds festivals.
But Chris Wolstenholme says it's time to take a break from the road and start writing new material.
He said: "I think by the time you've finished touring an album, which is usually a two-year cycle, it's something you start thinking about a lot.
"It's difficult to bring new songs into the live set before you record them with the internet and dodgy recordings of live songs getting out there before they've been released on an album.
"People tend not to play new songs live any more. That's why we want to get into the studio, make another album and then tour it."