Kaiser Chiefs help in London riot clean-ups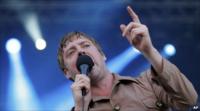 Leeds rock band The Kaiser Chiefs have helped to clean up parts of London as part of an online campaign.
Lead singer Ricky Wilson tweeted to say he'd joined the @riotcleanup Twitter drive and would be helping out in Camden with bassist Simon Rix.
The 33-year-old singer later tweeted on the way to Clapham: "Least threatening mob ever, we're all armed with brooms. One girl has a jay cloth."
The @riotcleanup Twitter group, started on Tuesday, now has 77,000 followers.
Rix later tweeted: "Atmosphere in Clapham was brooming marvellous this afternoon. Well done London. Hopefully we won't be doing it again tomorrow."
The Kaiser Chiefs recently released their fourth album, The Future Is Medieval.
They are due to play two sold-out homecoming shows in Leeds' Kirkstall Abbey on 10 and 11 September.
Ironically one of the band's best known hits is 2004's I Predict A Riot.