Music festivals struggling due to 'overcrowded' market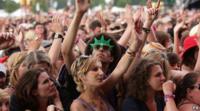 There's a warning from some of the UK's biggest festival bosses that too many events have meant tickets sales have been slower than in previous years.
A total of 31 festivals have been cancelled or postponed this year so far and many more are struggling to sell out.
Financial results compiled by PRS For Music released last week showed there was huge growth in the festival industry last year with income up by 20% from 2009.
But John Giddings, organiser of the Isle Of Wight festival, said the market is overcrowded.
He said: "There are just too many events now in the UK and it's impossible for them all to survive. The market is saturated.
'Money tighter'
"I don't think there will be a big casualty, I think there will be smaller ones. I think it's like a culling affect at a lower level."
Melvin Benn, managing director of Festival Republic, admitted that it had been a challenging summer for his festivals which include Reading, Leeds, Latitude and The Big Chill.
"There's no question that tickets have sold slower than they previously did. Money is definitely tighter," said Benn.
"I think we will end up with fewer festivals as a result of the economic climate.
"But we'll still have an incredibly healthy festival environment even if we have a few less festivals.
"There will be a million people that go to festivals this year. The idea that somehow festivals are no longer popular is quite frankly ludicrous."
Earlier this year Glastonbury organiser Michael Eavis told The Times that the Somerset event was "on its way out" and that it had "three or four years left".
Eavis said: "Partly it's economics, but there is a feeling that people have seen it all before."
Some artists and organisers agree that festivals are finding it hard to give people something new.
Kasabian's lead singer Tom Meighan said the dip in demand may be down to fans getting bored of seeing the same line-ups at different events across the summer.
"It's probably that people are sick of the same old bands headlining," he said. "It's like a rotation thing now."
But Kasabian's guitarist Serge Pizzorno said it's not the headliner's fault.
"There needs to be more new, young bands being given a push otherwise you get the same line-ups every year," he said.
"There is a lack of new music."
'Overall vibe'
Isle Of Wight festival organiser John Giddings added: "It gets more difficult every year because the UK music industry isn't making new stars so you end up with the same acts going round and round.
"Muse are a fantastic act but you can't have them at a festival every summer."
Melvin Benn said falling sales might mean organisers concentrated more on improving the festival experience rather than booking bigger acts.
"What we may be looking at is a bit of a reshaping of what a festival is, becoming less dependent on headliners and more dependent on an overall vibe, an overall feel and experience," he said.
This year's slower sales have also meant that more tickets have appeared on secondary ticket exchange web sites like Viagogo, Seatwave and GetMeIn.
Joe Cohen the founder of Seatwave said: "Prices are way down from previous years over all.
"Right now we've got about 40 different festivals where tickets are below cover price or face value.
"Reading festival is an example of one that's the most extreme where a £200 weekend ticket is trading for below £150.
"Fans who make a last-minute decision are definitely the winners.
"Unfortunately it may be at the expense of a less exciting line-up than they've seen in previous years."