Meet the hopefuls inside Football's X Factor academy
It's a baking hot day and 50 lads are out on the football pitches at Northampton University.
Earlier, they played a practice match. Later, they'll be in the gym.
But right now they're trying to hit the crossbar from the halfway line, a bit of light relief.
This is the third training camp organised by Pro FC.
Notts County manager Martin Allen started the company and compares it to a footballing X Factor.
He claims there are young players out there who are good enough to make it as professionals, but who might not have been spotted by the scouts.
He said: "DJ Campbell was a white van driver when he was 23 years old, and as we all know he's just scored 13 goals in the Premier League.
"There are many out there who've done this, and there are more still who want that opportunity."
'No guarantees'
Pro FC is designed to replicate the life of a real footballer.
The coaching is done by managers who've worked in the Football League and the food on offer in the canteen is just like what the pros eat.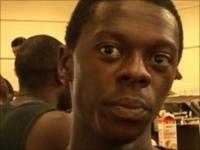 At the end of the week everyone plays a final match in front of scouts and coaches.
But the five-night residential camp costs £600 and no-one is guaranteed anything more than some work experience or a short trial with a club.
Twenty-year-old 'Nana' is one of those taking part.
"I think it's worth it," he said. "But it would be nice to be here for longer.
"£600 is steep, but we want to be pros and we want to work in this industry.
"If that's what we have to pay then that's what we'll pay."
'Work for it'
Martin Allen says one player has been given a contract with AFC Wimbledon after attending a Pro FC camp but admits that for most it's not going to lead to fame and fortune.
"If they're good they will go to football clubs and train," he said. "There's no guarantee of a contract, but we do get people into football clubs."
The players are given talks about other careers in the game, such as scouting and refereeing but there's no evidence yet that Pro FC has helped many people into those jobs either.
The oldest player at the camp, 26-year-old Andre, played professionally in India in 2009 and still thinks he can make it in England.
"It's about how old you feel and how willing you are to work for it," he said.
"I've still got 10 years left in me if I get the right training and coaching.
"It is hard, I'm not going to lie but if you want it bad enough you can get there."