Facebook founder's sister leaves to set up own company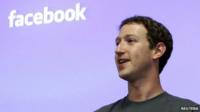 The sister of Facebook co-founder, Mark Zuckerberg, has left the company to set up her own "social" business.
Randi Zuckerberg was director of marketing for the social networking site and has worked there for the last six years.
A Facebook spokesman said: "We can confirm Randi has decided to leave to start her own company. We are all grateful for her important service."
Technology blog All Things Digital printed her resignation letter.
It said she was leaving to start a "new media firm to help companies become more social" called RtoZ Media.
The 29-year-old also said in her letter that she has spent the last six years at Facebook "innovating and pushing the media industry forward by introducing new concepts".
"We have made incredible progress, but there is still much to be done and other ways I can affect change," she continued.
"Now is the perfect time for me to move outside Facebook to build a company focused on the exciting trends underway in the media industry.
She added that "Facebook will clearly be a central element in all of my projects" and that she would "continue to be a strong, vocal evangelist for the most incredible platform ever created".
Facebook was founded in 2004 by Mark Zuckerberg, who was still a student at American university Harvard.
Membership of the social network recently topped 750 million.