Jay-Z admits fighting with Kanye over Watch The Throne
2 August 2011

From the section

Music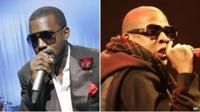 Jay-Z has admitted "yelling" at Kanye West while the pair worked on forthcoming joint album Watch The Throne.
"Yes we get on each other's nerves but that's part of pushing each other," he told New York radio station Hot 97.
"We push each other to be greater. Of course there are times when we're in the studio and we're yelling but that's it. I would never disrespect him."
He also confirmed the album would be released on 12 August.
Speaking during a surprise visit to Hot 97, the rap mogul told host Angie Martinez that any tension between him and West was a positive thing because it meant they made better music.
'Enough accolades'
"The people that have a problem with Kanye or myself are the people who are complacent in life," he said.
"People don't like to be pushed. It's annoying when people are pushing you to be greater.
"But we're in the business of challenging ourselves. If I was complacent I wouldn't be making albums, I have enough accolades to rest on.
"That's the thing that gets me excited and motivated, to make music and try even harder."
He went on to say that the album had an even mix of his own vocals and Kanye's.
"It was easy, we put up the music and we went back and forth," he said.
"The fighting, which I say loosely, was more pushing the album to a better place.
"We finished this album three times. The first time it was so big it was to be marvelled at, it was like, 'man this is great, this is technically amazing, but is it enjoyable?'
"So we brought it down to a place where it's a mix of technical talent and something that's enjoyable."
He added that Kanye West was a "genius talent".
"We have a healthy respect for one another and I know exactly where he's coming from. It's always about the art and you have to respect that," he said.
Guests on the album include Jay-Z's wife Beyonce, Otis Redding, Frank Ocean and Mr Hudson.