Dragons' Den: New judge Hilary Devey says she has flair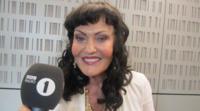 New Dragons' Den judge Hilary Devey has told Newsbeat she has "flair and flamboyancy".
The 53-year old, who made millions in the haulage business, said despite loving fashion she's still "nobody's fool".
"I'm very commercial, I won't go into anything I don't see an endgame to," she said.
Devey, who appeared on ITV's The Secret Millionaire show, replaces James Caan on the show.
She spoke about the pressure of being the newest dragon in the "competitive" atmosphere of the den.
'Colourful wardrobe'
"I was absolutely petrified on day one," she said. "It's an established team, they've been together nine years.
"But it's about getting in there really. There's a great deal of competitiveness and rivalry amongst the dragons."
She went on to reveal she could show "quite a lot of compassion" compared to other dragons.
"I'm very over the top and I'm funny," she revealed.
She also said she had a "very colourful wardrobe" after admitting her choice of shoulder pads in the promotional photos for the show may have been a mistake.
"One of the funniest things I've seen written about me is that they could park a lorry on my shoulder pads. In retrospect I'd have worn a different outfit," she said.
But she was also keen to point out she can be just as ruthless in seeking out deals as the other judges.
"We're looking for investment," she said. "What better opportunity than to have those investments lined up in front of you?"
She'll be judging alongside Duncan Bannatyne, Peter Jones, Deborah Meaden and Theo Paphitis.
The new series of Dragons' Den continues on Sunday at 9pm on BBC Two and BBC HD.