More teens abstain from alcohol, NHS figures reveal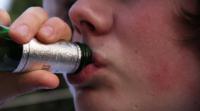 More than half of younger teenagers in England are abstaining from alcohol, the latest figures from the NHS Information Centre show.
Fifty-five per cent of 11 to 16-year-olds asked said they had never had a drink, up 6% on the year before.
The number of children who admitted to drinking in the last week has dropped to 13%, down from 18% in 2009.
Of those who admitted to drinking in the last week, almost a third had consumed more than 15 units of alcohol.
The percentage of pupils who had smoked at least once was 27% last year, compared to 44% in 2001, and 18% reported having taken drugs in their lifetime, compared to 29% 10 years ago.
Try out Newsbeat's booze calculator to see how much alcohol you have consumed
'Binge drinking'
In 2001, 20% said they usually drank at least once a week. In 2009 that figure had dropped to 12% and to 8% last year.
As you might expect, these figures do show a difference in the age groups with the older teenagers more likely to drink.
There doesn't seem to be much difference between boys and girls.
One of the reasons given is a change in celebrity culture.
Kelly Osbourne, Calvin Harris and Jessie J have all spoken publicly about giving up alcohol for various personal and health reasons.
Pop producer Harris recently said: "I stopped drinking because it actually was making me ill. It was affecting my brain in the worst way."
Another reason is a reaction to binge drinking.
Under-16s have grown up with images and stories of young people drinking excessively and more are deciding they don't want to be a part of it.
But each year in England thousands of under-17s are admitted to hospital as a result of drinking too much.
The NHS says young people's drinking behaviour is a matter of increasing public concern and patterns are among the worst in Europe.
Many 11 to 16-year-olds are still drinking large amounts of alcohol and deliberately try to get drunk.
Newsbeat spoke to young people at a school in Hertfordshire to see what they thought.
Katie, 15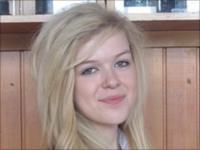 "I don't want a hangover, I don't want to be embarrassed.
"It's all about image, I don't want to become fat from drinking too much.
"I don't want to become spotty.
"No-one wants to look awful, especially among boys."
Charlotte, 15 and Myriam, 15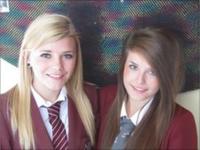 "If someone does get completely drunk off their face then everyone is like 'go away', it's really irritating.
"We don't like going out looking awful and if you're hungover or if you've been drinking so much you've got spots, you just feel so ugly.
"I don't drink regularly, I don't see it as a cool image.
"You don't want a reputation, so if your name comes up in a conversation with people you don't even know they could be like, 'that's the girl who got drunk at that party and didn't know what she was doing.'"
Samuel, 15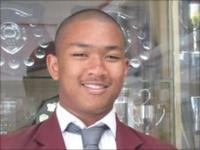 "For me, it's more of a reputation thing.
"If you went to a bar you'd want to have a lager with the lads, not a coke with the lads."
Gabriel, 14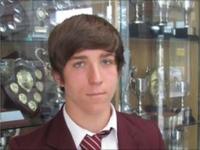 "I feel there's no need for it at this age and I really want to concentrate on my sport and get as high level as I can.
"I don't think it's as much of a culture these days as it was.
"There's a bit of peer pressure but it's easier to stay off it."
Chloe, 15, and Fiona, 15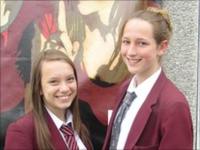 "If you've got a bad picture on Facebook, you're completely drunk and you look ridiculous and you don't want that.
"You don't want that following you around in the future.
"You don't need to drink to have fun.
"You just need good friends to have a laugh."