Keri Hilson apologises over Amy Winehouse tweet
27 July 2011

From the section

Music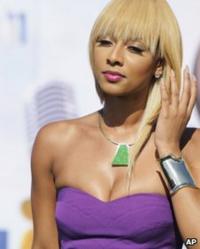 R&B singer Keri Hilson has apologised after tweeting a picture of an Amy Winehouse lookalike saying she had been "resurrected".
The 28-year-old was out in New York on Tuesday when she posted a picture of her with a woman resembling the singer.
She tweeted: "*gasp* Amy Winehouse resurrected to party w/ me!!! (seriously, uncanny resemblance)"
After fans complained about her insensitivity she tweeted: "Come on, I mean no harm. All due respect."
"But really the resemblance freaked me out. This was simply the best tribute ever. #RIPAMYWINEHOUSE."
She later added: "Bedtime. I apologize 2 anyone who might've taken it the wrong way. As a fan, I thought it was cool that she dressed up to honor Amy..
"(ctnd) I had no ill intent, but I understand how it appears insensitive...my bad twitterville. For real. Good night :)"
After the tweets Keri Hilson's name became a number one trending topic on Twitter as fans reacted to her posts.
@pmh78 tweeted: "@MissKeriBaby wow don't think that's appropriate or cool... Think about her family, friends n fans... Show a lil respect R.I.P Amy."
And @kknapp1 wrote: "@MissKeriBaby a little insensitive, don't ya think? #WayTooSoon."
Keri Hilson, who's had hits with Knock You Down and Turnin Me On, is currently on Lil Wayne's I Am Still Music tour.