Sam Holden, 22, up for top £5.3m poker prize
Poker player Sam Holden has made it to the final table of the World Series of Poker tournament in Las Vegas, just a year after turning professional. The 22-year-old, who lives in Canterbury, could walk away with a top prize of $8,7 (£5.3m). Newsbeat's Chris Smith caught up with him to find out how it all began.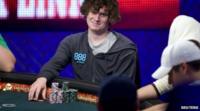 How did you start playing poker in the first place?
I guess I started off by seeing it on TV and just playing a little bit online for free, just to learn the game, and I found it interesting.
As I went to university I played a lot more, started playing for real money, just very small amounts, and started to build my way up.
How did you go about making it into a job?
I was doing it through university and in the summer breaks instead of a part-time job. So I was sort of supporting myself through that.
I guess I turned professional when I graduated last June and decided to give it a go for at least a year just to see how it went. It's gone pretty well so far.
Do you have backers or will you get to keep the whole lot if you win?
Sadly not, I've got about 39% of myself but I wouldn't have been able to play otherwise.
I've got several backers - 11 guys who've all got varying pieces of my action and they'll all obviously be delighted as well.
So how does the tournament work?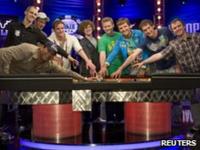 In this event there were about 6,800 people that played. As people get knocked out we're down to the nine that remain now.
We've played for I think over 80 hours now.
It's a very long tournament - probably the longest structure in the world.
It's the big main event so it's taken a long time but it's a fantastic tournament.
What's your secret?
I guess keeping calm - treating it like any other game of poker and just relying on the knowledge I've built up over the years and trying to concentrate on the cards and the players and the chips.
That's all you need to think about. Don't think about the money basically!
So is poker a game of skill or luck?
Well there's definitely an aspect of luck and skill in it. In the long run it's undoubtedly a very skilful game.
You can't have sustained results without being very good at the game. In this tournament I've been very lucky though to get this deep in this tournament, there's some very good players that played that haven't made the final nine.
But it's required a good amount of skill as well, especially in a tournament like this.
What do you think will be going through your mind when you sit down at the table?
It's going to be very weird. Up until this point I've managed to take it hand by hand and it's all happened very quickly.
You're playing for 10 hours a day and the rest of the time you're sleeping and eating. But now I've got three months to think about it so sitting down for the first time will be very interesting.
What's the first thing you'll buy with the money if you win?
Definitely a flat in London. My girlfriend and I have been hoping to move to London for a while so I guess we could buy a pretty nice place with that kind of money.