Tributes paid to Amy Winehouse after singer found dead
25 July 2011

From the section

Music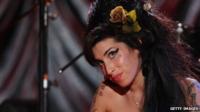 The family and friends of Amy Winehouse have said her death has left "a gaping hole" in their lives.
The singer, 27, was found dead at her home in north London on Saturday by a member of her security team.
Police still have not said how she died but paramedics were unable to revive her after being called to the house in Camden.
Hundreds of fans gathered outside her flat, some leaving floral tributes with others in tears after hearing the news.
Amy's father, Mitch Winehouse, flew back from New York to London after hearing the news.
Speaking outside her house on Monday, he said he was "devastated and speechless" over her death.
A family statement said: "Our family has been left bereft by the loss of Amy, a wonderful daughter, sister, niece.
"She leaves a gaping hole in our lives. We are coming together to remember her and we would appreciate some privacy and space at this terrible time."
Stars have also been leaving messages on microblogging site, Twitter.
Mark Ronson, who worked on her breakthrough second album Back To Black, said: "She was my musical soulmate and like a sister to me. This is one of the saddest days of my life."
Jessie J wrote: "The way tears are streaming down my face. Such a loss."
Tributes
A neighbour of the singer, who doesn't want to be named, says he was shocked to learn about her death.
"I was inside the house and I heard crying," he told Newsbeat. "I looked out in the street and I saw one of her friends in tears.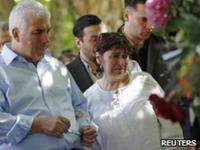 "Then the police cars and ambulance turned up and I said to my son, 'I think Amy's dead.'"
"Before she moved in I was really annoyed because this is such a quiet square. But she kept herself to herself and she was a very, very respectful neighbour.
"She was friendly when you saw her and that was it."
The singer has had a well documented battle with drink and drugs. She last performed one of her own shows at a festival in Serbia last month.
But despite remaining on stage for a full gig she appeared drunk and was booed off stage.
Following that show, the remainder of her European comeback tour was postponed.
Amy Winehouse was seen out last Wednesday night (20 July), showing support for her god-daughter Dionne Bromfield as the teenager performed as part of the iTunes festival in London.
Music
Amy Winehouse followed the critical success of her debut album Frank with a Mark Ronson-produced breakthrough second album Back To Black in 2006.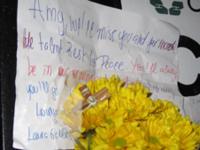 It won her five Grammy Awards and brought her worldwide stardom.
However, despite time in the studio, a follow-up was never released.
Metropolis Music, Winehouse's management company, released a statement saying: "We are trying to come to terms with the death of a dear friend and colleague, the most amazing artist and talent.
"We will always remember Amy as a vibrant, funny, caring young woman who made everyone around her feel welcome. We have lost a very special person, part of our family."
Sales of Amy Winehouse records have surged since her death, with Back to Black re-entering the charts at number 59 almost five years after its release.