Amy Winehouse found dead at London flat aged 27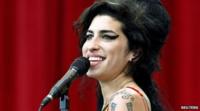 Amy Winehouse has been found dead at her home in London.
It still hasn't been confirmed what caused the singer's death.
Ambulance crews and police went to the singer's flat in Camden, north London, just before 4 o'clock on Saturday afternoon (23 July) but paramedics were unable to save her life.
The singer has had a well documented battle with drink and drugs. She last performed one of her own shows at a festival in Serbia last month.
But despite remaining on stage for a full gig she appeared drunk and was booed off stage.
Following that show, the remainder of her European comeback tour was postponed.
Amy Winehouse was seen out on Wednesday night (20 July), showing support for her god-daughter Dionne Bromfield as the teenager performed as part of the iTunes festival in London.
It's believed Amy's father, Mitch Winehouse is flying back from New York to London.
Tributes
Amy Winehouse followed the critical success of her debut album Frank with a Mark Ronson-produced breakthrough second album Back To Black in 2006.
It won her five Grammy Awards and brought her worldwide stardom.
However, despite time in the studio, a follow-up was never released.
On Saturday evening, fans gathered near her London home.
Tributes are coming in from around the world.
On Twitter, Tinchy Stryder said: "My thoughts go out to her family and friends. RIP Amy Winehouse."
Katy B said: "So sad. Such an incredibly talented woman. R.I.P Amy such an inspiration, my heart hurts."
Jessie J said: "The way tears are streaming down my face - such a loss - RIP Amy."
Lily Allen, who rose to fame around the same time as Amy Winehouse said the death is "just beyond sad".
She added: "There's nothing else to say. She was such a lost soul, may she rest in peace."
Take a look back at Amy Winehouse's life from her debut in 2003 to her death in 2011