Kim Kardashian sues US clothing store over 'lookalike'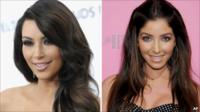 US reality TV star Kim Kardashian wants to stop a US clothing store from using a lookalike model of her in its ads.
Old Navy, a shop owned by the same parent company as The Gap Inc. is accused of violating publicity rights.
The model, made famous in show Keeping Up With the Kardashians, sued the clothing store earlier this week [Wednesday], in a Los Angeles federal court.
Gap spokeswoman Louise Callagy said the company had "no comment."
Copycat
The video advertisement, aired earlier this year, showed a young dark haired woman who Kim Kardashian claims bears a strong resemblance to herself.
It's been viewed more than two million times on Old Navy's YouTube channel.
The lawsuit claims shoppers may be confused by the ads and the model's actual endorsements, which include her own clothing store and shoe line.
Kim Kardashian "has invested substantial time, energy, finances, and entrepreneurial effort in developing her commercial achievement, as well as developing her prominence in the public eye," the lawsuit states.
Her lawyers are seeking unspecified damages and an order preventing Old Navy from using a Kardashian lookalike to model its range again.