Owl City 'pressure to match success of hit Fireflies'
21 July 2011

From the section

Music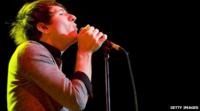 Adam Young, the man behind US electronica music project Owl City, says he put "pressure" on himself to write something as successful as chart-topping track Fireflies.
The song went to number one in 24 countries and was one of the biggest selling songs in 2009.
Adam Young Said: "There was a little bit of pressure on myself from myself.
"The record company were gracious and told me to go away and write something and come back in two months."
The multi-instrumentalist from Minnesota was stocking shelves before he started writing music and says the name Owl City "came to him in a dream".
He uploaded some of his early work on Myspace, which eventually led to a signing with a major label.
He says the success of his last album Ocean Eyes took him by complete surprise.
He said: "I feel like I was the least likely candidate in the music industry to have the amount of success it did, never expected it, never wanted it."
Owl City is touring parts of the UK in the autumn.
Adam Young said fans could expect a different show.
He said: "It's a thematic show about capturing the innocence of nature, fake trees, fake grass, hedgerows, nature sounds, electric guitars here and there."
Owl City's second album All Things Bright And Beautiful is out now