Leona Lewis' label denies copying Avicii dance track
21 July 2011

From the section

Music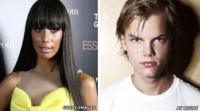 Leona Lewis' record label has denied claims that she copied a club track by a Swedish DJ without permission.
The singer's label Syco says she was given the go ahead to use a song called Penguin, originally recorded by dance act Avicii.
Penguin samples an instrumental called Perpetuum Mobile by Penguin Cafe Orchestra.
Avicii's manager said he thought that Leona would only use that same sample on her new single, Collide.
"We were under the impression that they were going to sample the original. They ended up copying our version," the DJ's manager Ash Pournouri said in a statement.
'Publishing splits'
"We never allowed [Syco] to replay our version of the track.
"The original sample rights belong to Simon Jeffes [Penguin Cafe Orchestra] and approval for using that composition is not in our control," he added.
Syco said that was untrue. The label said it was crediting Avicii, whose real name is Tim Bergling, on the single.
On her Twitter feed, Leona said: "With regards to my song, Avicii was aware & agreeing publishing splits for himself and his manager.
"When Avicii sent his track out to have a song written over it I totally fell in love with this version and I think he's super talented."