Rapper DMX released from prison after violating parole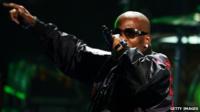 DMX has been released from prison after serving an extra week behind bars for failing a drug test.
The rapper, whose real name is Earl Simmons, was sentenced to a year in prison last December.
His probation was revoked after he failed to submit to drug testing and driving on a suspended licence.
The 40-year-old was credited with 117 days he had already served and had been earning 20 cents (12p) an hour as a porter.
Arizona Department of Corrections spokesman Bill Lamoreaux says family members were at the facility in Yuma, Arizona, to pick him up.
He originally received probation for attempted aggravated assault and using a fake name to avoid paying a $7,500 (£4,600) hospital bill.
The rapper told a judge in December that he broke the rules of his probation by drinking alcohol during a concert in Scottsdale, Arizona.
It was the sixth time he had been jailed in the US state.
The star has released six studio albums including debut It's Dark and Hell is Hot and Year of the Dog...Again from 2006.
His manager Nakai Walker said DMX planned to return to an Arizona recording studio to finish work on a new album, which will include a single with fellow rapper Busta Rhymes.