Red Hot Chili Peppers 'not bothered' about single leak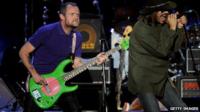 Red Hot Chili Peppers say they're not bothered about their new single being leaked online ahead of its release.
The LA band are due to bring out their 10th studio album, I'm With You, in August.
Lead single The Adventures Of Rain Dance Maggie had its first airplay on Radio 1 earlier this week.
But bassist Flea has told Radio 1 DJ Zane Lowe that he's only worried about making the songs as good as they can be, not when fans get to hear them.
"The only thing that I would ever worry about would be if I was lazy or I didn't really take my time in the songwriting process to make the music as good as I thought it could be," he admitted.
"That's the only thing I ever fret about because I do have a lazy streak. Anything that happens once the music is done, come what may."
'Completely different'
Red Hot Chili Peppers haven't released an album since 2006, when they brought out double album Stadium Arcadium.
They then decided to take a two-year break from writing music and touring before getting back together in 2009.
Flea admitted it was hard to pick the first single off the new album.
"I'm not real good at picking singles," he said. "I really don't know what's good to go first. It's a tricky one because all of the songs on the record are so different.
"The Adventures Of Rain Dance Maggie - I like the song. It's a cool, simple, funky, little jam but it's completely different, there's nothing else on the record that sounds anything like it.
"What was important to us when we put the record together was to make sure that each song filled its own space and was not like another song on the record.
"We wrote 70 songs, so it's not even necessarily all the best ones that we put on, but just the ones that occupy their own space."
Guitarist John Frusciante left the band in 2009, to be replaced by Josh Klinghoffer.
Flea revealed that the change in personnel led to a slightly different writing process.
"A lot of the music on this record was written on the piano," he said. "Josh also writes on the piano.
"In the past we'd always written stuff on bass and guitar and it would immediately be what it was.
"When you write something on the piano, then you translate it to a rock band it makes the creative process a lot different. The spirit is different."