Glasvegas 'surprised' by fan reaction to second album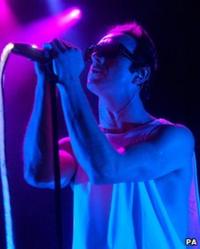 Glasvegas singer James Allan has told Newsbeat the band was "surprised" by the range of views about their second album Euphoric Heartbreak.
"When you first come out there's the honeymoon period or something and then after that it seems to be like something a little bit different," he said.
"People come up and say, 'I didn't like the first album but I like the second.'
"Others say, 'You've changed, I liked the first album,'" he said.
"Then on the other hand you get people who say, 'I hate your two albums and I hate you,'" he added.
'Really proud'
Allan said the band, who recently played the iTunes festival at London's Roundhouse venue, had got "better" at looking after themselves while on tour.
"I think naturally we know how to tour a little bit better now and not do a lot of bad stuff that makes touring a lot less fun.
"You learn to take care of yourself a lot more and what makes touring a lot easier, like having a semi-decent hotel, 'cos it's basically your room."
He also explained that their forthcoming single Shine Like Stars was a "snapshot of optimism", but wasn't the same style as the rest of their second album.
"If I was looking for one main sentiment to put out from the album it would have been a different one, but I hope that doesn't seem negative about the single," he said.
"I'm really proud of all the songs," he added.
Glasvegas will play the V Festival in Essex on 20 August and Staffordshire on 21 August.