Rapper Ja Rule sentenced over US tax evasion charges
19 July 2011

From the section

Music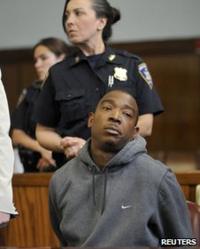 Ja Rule has been sentenced to 28 months in prison after failing to pay more than $1 million (£622,000) in taxes.
The 35 year-old rapper, whose real name is Jeffrey Atkins, is already serving a two-year jail term on a weapons conviction in New York.
Ja Rule pleaded guilty in March to three counts of failing to file tax returns between 2004 and 2008.
The two sentences will be served at the same time, according to the US Attorney's Office.
"Taxpayers do not have the luxury of deciding whether to comply with laws," US judge Patty Shwartz said while delivering his sentence.
Ja Rule pleaded guilty to attempted criminal possession of a weapon last year and began his New York prison sentence in June.
In July 2007 police pulled over the singer's car after a concert and found a semi-automatic handgun hidden inside.
Ja Rule has released six studio albums and received a Grammy nomination in 2002 for his third record Pain is Love.
The 35-year-old is best known for tracks like Always On Time and Livin' It Up.
He is expected to release Pain is Love 2 later this summer.
Ja Rule has also appeared in films like The Fast And The Furious and Scary Movie 3.