The Vaccines say charts are 'not relevant any more'
14 July 2011

From the section

Music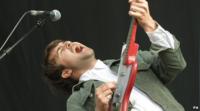 The Vaccines have told Newsbeat they think the music charts are "not relevant any more".
"People think because indie music or good music isn't in the charts it's struggling, but I don't think the charts are relevant any more," singer Justin Young said.
The four-piece's debut album, What Did You Expect From The Vaccines, charted at number four in the UK in March 2011.
The London band also came third in BBC's Sound of 2011 chart.
Young said that the band had felt some pressure after being tipped for success before the release of their LP.
"At the turn of the year you get all those things when people hype stuff up and they predict and stuff.
"You're always kind of building your house on sand with that kind of thing and I think we all were a bit worried," he said.
But he added that the band were "genuinely over the moon" that they'd been able to connect with people.
"It's the oldest trick in the book to sound so overly sincere but genuinely it has taken us by surprise," he said.