Rapper Diddy is stepping back from writing new material
12 July 2011

From the section

Music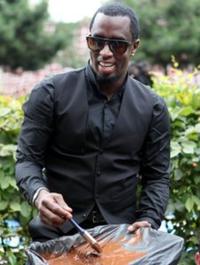 Diddy has said he's planning on stepping away from writing new music in the immediate future, saying he is going to "take my artist hat off".
The rapper, who's most recent release was with his group Diddy Dirty Money, said he will concentrate on producing.
He said: "[Right now] it's about supporting Dawn and Kaleena on their solo projects and the rest of the Bad Boy projects."
Diddy's most recent album was released in January 2011.
Diddy 'chilling'
However, Dawn Richards, Diddy's bandmate in Dirty Money, questioned his claim that currently he's just 'chilling' from making new music.
"Puff said he's chilling which is a first for me - he ain't going to be chilling," she said.
"Kaleena and I are working on our solo projects but I don't believe Puff at all about chilling."
The rapper, along with Richards, were speaking to Newsbeat as they visited a community project in east London.
They helped volunteers decorate a playground as part of the Orange Rock Corps project.
"I been painting," said Diddy. "Nobody really knows this but one of my first jobs when I was ten - when I was painter in the summer - I was painting this house.
"It was during the heat-wave I was ten years old. It was like 110 degrees and I was baking up on this ladder.
"I was painting this house fushcia and burgundy. It was a crazy colour. I do it all, I do it all baby."
Tonight (12 July) Diddy Dirty Money will make a rare live appearance at London's Wembley Arena along with other artists like Kelis, Eliza Doolittle and Professor Green as part of Orange Rock Corps.