Kelly Clarkson studio tracks are leaked on the internet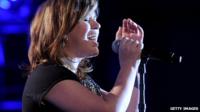 US singer Kelly Clarkson claims 50 new songs she had recorded for her fifth album have been leaked on the internet.
The first American Idol winner says she got back from holiday to find out somebody had put her material online.
In an update on her Facebook page, she said: "I get back in the States from a vacation and somehow 50 of my songs are leaked on the Internet?!
"No point in getting angry because there's nothing I can do. I can't wait for everybody to hear my fifth album."
The 29-year-old singer/songwriter, who has more than two million Facebook fans, had just got back from a holiday in Tahiti when she found out about the leak.
Kelly Clarkson won the first American Idol in 2002.
Her debut album, Thankful, was released the following year with lead single A Moment Like This making it to number one in the US and Canada.
Her 2007 track My Life Would Suck Without You made it to the top of the singles chart in the UK as well as in America.
In her Facebook update, Kelly Clarkson added: "I had an amazing vacation and and got to hang with some awesome people!
"There's nothing better than dancing, laughing, having a couple drinks, then more dancing, games, and then more laughing."
Two of the tracks leaked online were called Let Me Down and Forgive You.
Kelly Clarkson's new album is scheduled for release later this year.