Pixie Lott teams up with Stevie Wonder and John Legend
12 July 2011

From the section

Music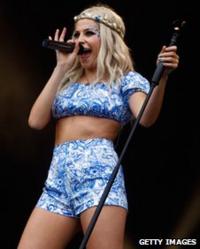 Pixie Lott has told Newsbeat her second album will feature collaborations with Stevie Wonder and John Legend.
The 20-year-old Londoner revealed that soul icon Wonder plays harmonica on a "feel good throwback record".
She also has recorded a "very vocal" piano track called You Win with US star John Legend.
Pixie Lott's second album is out on 7 November, with her new single, All About Tonight, getting its first play on the Chris Moyles Show yesterday.
She explained that she'd got in touch with Stevie Wonder and John Legend through a mutual friend while recording her album in Los Angeles.
'Personal experiences'
"I'm a massive fan of John Legend so I was really really excited and happy about that," she said.
"I've been such a massive fan [of Stevie Wonder] for so many years, it's crazy to actually see him in the flesh.
"I met his family and his wife, I spoke to him for a while and he's such a legend."
Lott, who released her debut album, Turn It Up in 2009, added that she was now a more confident songwriter for her second record.
"I'm not afraid to use my personal experiences and put them into a song," she said. "I think that's when you get the best stuff anyway, when it's real emotion."
She also said she hoped to tour the UK, depending on how well the new record does.
"My ideal would be to put on a full production show where you have the stage and the set and the props that make it such a visual feast," she said.