Social network sites 'have duty' to stop cyberstalking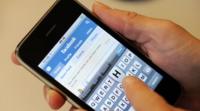 Social networking sites should make it much easier for users to report serious online abuse, MPs have been told.
The first British study into cyberstalking found victims were more likely to be harassed on sites like Facebook than by email or mobile phone.
The authors want sites to sign up to a code of practice setting out how they will deal with threats and abuse.
"They really have a duty to their consumers," said Prof Carsten Maple at the University of Bedfordshire.
"There needs to be a clear process so users know how to report harassment and a time limit so a site must respond within a set number of days."
The research was presented to MPs as part of a wider parliamentary inquiry into the problem which is expected to report back next year.
353 British victims of cyberstalking were surveyed for the study.
Half of them said the person harassing them was either unidentified or a complete stranger.
That's a much higher rate than in face-to-face stalking cases where the perpetrator is more likely to be an ex-boyfriend or girlfriend.
Victims reported a range of health problems from sleep disorders to stress and depression.
"We were amazed by how traumatised some people were who responded to the survey," said Dr Emma Short, one of the report's co-authors.
"One of the cases we spoke to couldn't go to work because her stalker was completely unknown to her.
"She wouldn't stand on the station platform in case she got pushed in front of a train as they were threatening to do."
'Invasion of privacy'
Female victims in the study were more likely to worry about their personal safety and the safety of close family members.
Men tended to worry about the damage to their reputation online.
Saul Katz is 21 and from St Albans in Hertfordshire - he was forced to go to the police after someone duplicated his Facebook profile.
They used dozens of pictures from his own photo album.
"I just didn't realise my profile was public," he said.
"He was pretending to look like me then he started adding 15 and 16-year-old girls in the local area and talking to them on Facebook chat.
"I was worried about the girls' safety but I was also worried about my reputation. It was a massive invasion of privacy."
He contacted Facebook but was unimpressed with the response.
"I only got general FAQs back. It was an automated response and I thought that should be far more personal," he said.
After getting the police involved and messaging the impostor directly, the account was eventually deleted, although Saul still has no idea who set it up in the first place.
Other victims of cyber-harassment find it much more difficult to shake off that kind of unwanted attention.
False allegations
Newsbeat spoke to another male victim who had been stalked online by a former workmate for more than three years.
"He started dozens of bogus accounts on every social networking site you can imagine," he said. "He's used those to contact my family, my friends and my schoolmates."
The stalker used those accounts and a series of blogs to spread damaging false allegations.
"It's extraordinary the length he's gone to to cause distress to everyone around me," said the victim.
The authors of the report say websites, internet service providers and mobile phone companies all need to put in place stricter procedures to deal with this type of electronic harassment.
They say some police forces also need to take complaints about internet stalking much more seriously.
Facebook has now set up its own safety advisor board to improve reporting procedures and put in place a simpler system for flagging up cloned or fake profiles.
A spokesman said: "Nothing is more important to us than the safety of the people that use Facebook.
"We're constantly working to find new ways help people stay safe, such as the reporting tools accessible across almost every page of the site."