Yahoo! criticised over e-mail 'snooping' for advertising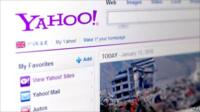 A leading consumer group has accused Yahoo! of scanning through personal e-mails for information to use to sell advertising.
The world's largest e-mail provider says signing up to its new service means scanning technology will be used to block spam, and eventually to offer adverts relevant to the user.
But Sarah Kidner fom watchdog Which? Computing says "This is a blatant intrusion of privacy".
A Yahoo! spokesperson said, a box will appear 'asking for users' consent'.
"To look for keywords and links to further protect you from spam, surface photos [photos sent from friends which then won't go straight to spam] and in time, serve users with interest-based advertising."
Users could then see pop-up ads that are relevant to keywords in e-mails both being sent and received.
Trust issues
"People should have the right to send messages without Yahoo! snooping through them," said Sarah Kidner editor of Which? Computing.
Yahoo! is among a number of e-mail service providers which scans content.
Google mail, on its website, says it looks at the text of Gmail messages to filter spam and detect viruses.
"Google also uses this scanning technology to deliver targeted text ads and other related information."
The sifting is done by computers and creates profiles of customers about their likes and dislikes.
However, competitors Microsoft which runs Hotmail in a statement said it 'puts online privacy as a top priority.'
"Not only does Windows Live Hotmail not read users' e-mails, but we protect your inbox from anyone else accessing your e-mail with advanced security features."
Yahoo! says it began to offer its users the chance to sign up to its New Mail service in June to provide a 'faster, more social and safer experience'.
"If you prefer not to consent, you can remain on our existing mail, although we will, as Yahoo! and other free webmail service providers do, continue to machine scan e-mails to protect against spam.
The email service says it's easy for users to opt-out of internet-based advertising by visiting http://info.yahoo.com/privacy/uk/yahoo/.